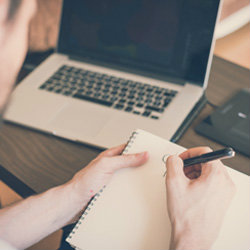 General Banking FAQs
Can I receive my bank statement electronically?
Receiving your statement electronically is easy! All that is required is a valid e-mail address to receive notifications. To sign up, stop in at the bank or contact us by telephone or e-mail.
How can I sign up for Online Banking?
Simply go to our online banking page and sign up.
What does it take to open a checking or savings account?
In order to open an account with Neighborhood National Bank, we require a valid photo ID, social security number presented at account opening along with the qualifying deposit.
How do I reorder checks?
Feel free to stop in or give us a call to reorder checks. Additionally, you can reorder checks by clicking here.
How long does it take to get a debit card?
Once your debit card order is processed, you should receive your card within 14 days.
What should I do if I notice an electronic error on my statement?
In case of errors or questions regarding your electronic statement, contact us by telephone or e-mail.
How do I place a stop payment on an item?
You may telephone the bank or stop in to request a stop payment on your account.
Can I get a debit card and what are the charges?
All of our checking account holders in good standing can receive a debit card. The debit card is free of charge.
How do I reset my PIN number on my debit card?
You can reset your PIN number for your debit card by calling 1-800-992-3808, enter your card number and then answer security information. If answered correctly, you will then be prompted to enter a new 4 digit PIN number.
Online Banking
How do I sign up for Neighborhood Online Banking?
You can sign up for Online Banking by clicking here. You will be asked to review the Online Banking agreement. Click on accept if you wish to continue. Complete the information. All fields are required. Click on submit.
How do I change my password?
Passwords can be changed under the user options tab on the top of the page. We suggest that you change your password every 90 days. The system will also prompt you to change your password every 90 days.
What if I forget my password?
Click "Forgot Password" after entering access ID and an email with a one time password will be emailed to you. You can also call the bank and we will reset your password to a temporary one. The temporary password, in both instances, will allow you to login and will require you to reset your password.
What are the challenge questions used for?
This is another way of recognizing your identity in case you are using someone else's PC or a public computer. A challenge question will be asked and must be answered correctly before the system allows you to continue.
What if I am unable to access my accounts?
If you have not logged in within the last 120 days, the system will delete you as an Online user. You will need to login again as a first time user. If you have accessed your accounts within the last 120 days, your Online Banking may be locked. This happens if the incorrect password or challenge question was entered. You have 3 access attempts before the system will lock you out. Call the bank and we will unlock your account after verifying your personal information. If you know your password, you will be able to access your account immediately. If you are unable to remember your password, we can reset your password to a temporary one.
What if I am traveling and need to login to my accounts?
You can login from any PC. A challenge question will be asked and if answered correctly, will allow you access. Remember, do not register public computers — only the computers you frequently use.
Can I view my checks Online?
Checks can be viewed online for the current and previous statements.
How can I sign up to receive my bank statements electronically?
You can notify us that you would like this option. Upon your request, we will update your access, adding a documents tab that will allow you to view, print or save your statements. The system will allow access to your statements for 12 months. You will be able to view your check images from the current and previous statement cycle.
Do you offer Bill Pay?
Bill Pay is offered to our personal and business account customers.
How do I sign up for Bill Pay?
You select the Bill Pay tab when in an online banking session or contact the bank and we will gladly assist you.
How do I sign up for Business Online Banking?
Contact the bank and we would be happy to set this up for you.