Individual Retirement Accounts (IRAs)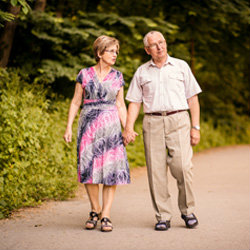 Proper planning puts you on the path toward a truly enjoyable retirement. Make the most of tax-advantaged savings now to ensure that when the time comes, you're ready!
We offer both Traditional and Roth IRAs. Have a look at the differences between the two and pick the plan that makes the most sense for your situation.
Summary
Tax-advantaged retirement savings*
Competitive interest above standard savings rates
Traditional, Roth, and SEP IRA options
No setup fees
No monthly or annual maintenance fees
$5,500 contribution limit per year (as of 2017)
Additional $1,000 "catch-up" contribution allowed for ages 50+
Funds can be used to purchase CDs within IRA
Minimum deposits to open vary:

$500 minimum deposit requirement on 91 days
$1,000 minimum deposit requirement on terms greater than 91 days
Traditional vs. Roth
There are advantages to both traditional and Roth IRAs. One of the biggest differences is the time at which you see the most advantage. A traditional IRA provides potential tax relief today, while a Roth IRA has the potential for the most tax benefit at time of retirement.
Traditional IRA
No income limits to open
No minimum contribution requirement
Contribution limits apply*
Contributions are tax deductible on state and federal income tax**
Earnings are tax deferred until withdrawal (when usually in lower tax bracket)
Withdrawals can begin at age 59 and a half
Early withdrawals subject to penalty**
Mandatory withdrawals at age 70 and a half
Roth IRA
Contribution limits apply*
Income limits to be eligible to open Roth IRA*
Contributions are NOT tax deductible
Earnings are 100% tax free at withdrawal**
Principal contributions can be withdrawn without penalty**
Withdrawals on interest can begin at age 59 and a half
Early withdrawals on interest subject to penalty***
No mandatory distribution age
No age limit on making contributions as long as you have earned income
*Refer to the IRS website for current limits.
**Subject to some minimal conditions. Consult a tax advisor.
***Certain exceptions apply, such as healthcare, purchasing first home, etc.
Simplified Employee Pension Plan (SEP)
Business and self-employed individuals are eligible to open SEP IRAs. An SEP IRA is low maintenance and requires less paperwork than a 401k. Here's how it works: Employees establish a traditional IRA, then the employer deposits contributions.*
Employers can change their contribution amounts at any time, so there's the flexibility to adjust contributions as cash flow varies. Take advantage of hassle-free retirement savings today.
Ideal for businesses of any size or self-employed individuals
Help employees reach their retirement savings goals
Employee always has complete ownership of all SEP IRA money
Earn competitive interest on entire balance
Contributions are tax deductible; your business pays no taxes on earnings**

Contributions made only by the employer
Only self-employed may make contributions on their own behalf

Little to no documents to file with government
Inexpensive to set up and operate
Flexible annual contributions — good plan if cash flow is unpredictable
Can contribute up to 25% of each participant's annual compensation (earned income)

Or, up to the maximum allowable limit for current plan year, whichever is less*
Must contribute equally for all employees

Employee must first establish a traditional IRA, in which the employer will deposit SEP contributions
Minimum deposit to open an SEP depends on the term:

$500 minimum deposit requirement on terms of 91 days
$1,000 minimum deposit requirement on terms greater than 91 days
*Refer to the IRS website for current limits.
**Consult a tax advisor.