Mobile Banking & Mobile Deposit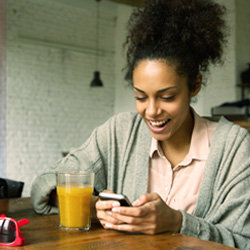 Carry account access with you wherever you go. Mobile banking lets you view your balance, transfer funds, pay bills, and even deposit checks — all from your mobile device.
It's free, convenient, and secure. Skip countless trips to the bank— sign up today!
Summary
Fast, free, and secure service for customers enrolled in online banking*
Easily keep track of your finances — even on the go:

View account balances
Review history
Transfer money between NNB accounts
Deposit checks
Pay bills using Online Bill Pay

Available via any web-enabled cell phone or device
Utilize this service three convenient ways:
First time users
Getting started is easy!
Simply download the mobile app to your iPhone® or Ipad or Android device.
Mobile Deposit
Deposit checks using your smartphone. It's quick, convenient, and secure. Simply take a photo of your signed check, then submit the image for deposit.
Start taking advantage of this free service today.
Deposit checks anytime, anywhere from your mobile phone
Free service for customers with a Neighborhood National Bank personal checking account*
Save time, avoid unnecessary trips to the bank
Deposit your check in just a few quick clicks
Tips for Using Mobile Deposit
Flatten folded or crumpled checks before taking your photos.
Sign/Endorse the back of your check, and add the words, "For Mobile Deposit Only" below your signature. Simply checking the box indicating Mobile Deposit does not meet Reg CC requirements.
Take the photos of your check in a well-lit area on a solid dark background.
Make sure that the entire check image is visible and in focus – all four corners should be visible. The MICR line (numbers on the bottom of your check) must be readable.
Step-By-Step Instructions
Launch the Mobile Banking App and select the "Menu" button.
Select " Deposit Checks"
Select the correct deposit account from list that you want to deposit to.
Next select the "amount" and enter that amount of the deposit and enter in check amount.
Select "Front Image" which will open up your camera on your phone. Camera will automatically take a photo. If the image is clear, continue to back of check. Otherwise, retake the photo by selecting the "Front image" on the screen.
Once both front and back images are taken, select "Review" to the Review Deposit page and press "Submit" if all information is correct.
You will then see a Deposit Pending screen showing when the mobile deposit is complete. From here you can go back and review your accounts or do another mobile check deposit.
Free E-mail and Text Alerts
E-mail and text alerts are available through mobile and online banking! These alerts allow customers to keep track of their accounts and transactions in a convenient manner
This is a free service that is automatically available to all Mobile and Online Banking customers.
Frequently Asked Questions
Mobile Banking FAQs
Is there a fee for this service?
There is no fee for this service. It's one more way that Neighborhood National Bank gives you more value by banking with us.
Is mobile banking secure?
Our bank is very concerned with the safety and privacy of your information and is committed to security. To ensure the security of your account information, a number of security features have been built into Mobile Banking.
What accounts can I access with mobile banking?
You can access Checking, Savings, CDs, Loans, and more.
What if my mobile device is lost or stolen?
We will never send full account numbers or other personal information via Mobile Banking. If your mobile device is lost or stolen, no one can access your account without knowing your unique password. In the unfortunate event your mobile device is either lost or stolen, report it immediately to your mobile carrier. Then contact the bank and we will remove Mobile Banking from your access.
Mobile Deposit FAQs
On what devices can I use Mobile Deposit?
Mobile Deposit can be used to electronically deposit checks into your deposit account(s) from your iPhone, iPad or Android device using our Mobile Banking App.
What are the fees for Mobile Deposit?
Neighborhood National Bank does not charge for this service at this time. Wireless message and data rates may apply. Check with your carrier for more information.
What checks can be deposited?
Only complete, unaltered checks in U.S. currency drawn on a financial institution in the U.S. and made payable to the account owner(s) that have been properly endorsed are accepted. Checks dated more than six months prior to the date of the deposit will not be accepted. United States Treasury checks and third party checks cannot be accepted through Mobile Deposit.
The endorsement area will need the payee's signature(s) along with the phrase "For Mobile Deposit Only". Your check will not be accepted for deposit without the phrase, "For Mobile Deposit Only".
Is there a limit to the check amount to be deposited?
Mobile Deposit allows you to make deposits up to $2,500 per day. Higher deposit limits may be available with approval.
When will the funds be credited to my account?
Funds are normally received within two business days. Return later to view your deposit history status. Your Mobile Deposit History is retained within the App.
What do I do with the checks deposited thru the Mobile Deposit App?
Please keep your paper check until the funds are posted to your account. Funds are normally received within two business days. After the item has posted, dispose of the check securely. We recommend cross-cut shredding.
What happens if the deposited check is returned NSF?
A notice will be sent to the customer who deposited a check that was returned to the Bank due to non-sufficient funds. The customer's account will then be debited for the amount of the check.
Can Business Customers use the service?
Mobile Deposit is not available on our Business Accounts. Remote Deposit Capture is available for our business clients, which allows the scanning of checks through a desktop scanner located at the business. Call one of our Universal Bankers today to find out more about this convenient service.