Merchant Card Services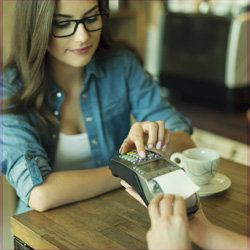 We can provide your business with the technology it needs to accept major credit and debit cards. This convenient service reduces the risk of human error, cuts down on billing expenses, and keeps customers happy.
Don't miss out on a sale just because a would-be customer isn't carrying cash. Give people a variety of ways to pay you, and you'll get paid more often!
Summary
Available to Neighborhood National Bank business customers
Competitive rates offered
Provide additional payment options for your customers
Accept major credit and debit cards for increased versatility
Boost your bottom line by making it easier for people to pay you
Reduce processing time and human error
Reduce billing expenses
Equipment is easy to use and set up
Streamline billing and record-keeping